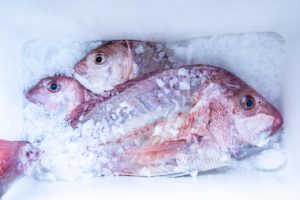 When the fishing is good…..
Don't be wasteful with your fish. If you're just a fillet eater, please consider sharing the rest of your catch with the community. There are plenty of people who relish those heads and frames and there is a website set up specifically to help you find them-   www.freefishheads.co.nz . It's easy, free and you may make some new, life long friends.
There are also plenty of ways to cook up the whole fish so you don't waste anything. Check out our page on utilisation for ideas and a video on a really inventive way of filleting fish to waste as little as possible.
When the fishing is good, catch what you need and plan to use everything you keep.
[/fc_imageblock]

kaitiakitanga
No longer is the phrase true 'plenty more fish in the sea' as we realise globally our fish stocks are rapidly declining from over fishing and negative impacts on the ocean environment.

We must change our thinking and our ways. Kaitiakitanga or guardianship should be in every fisher's conscience as they gather from, fish in, and interact with our ocean habitats.
The FishCare principles and practices are not difficult to implement. Everyone will find something to improve in their approach to fishing to contribute to a healthy, vibrant inshore fishery.

Our vision
An abundant fishery enjoyed by today and by future generations. It takes time to rebuild and restore a fishery to abundance but the more people who adopt these principles, the faster we can make a difference.
With our population projected to increase and an increase of pressure on fish stocks globally, it is essential that today more than ever we adopt best practice fishing methods. From selective fishing methods to releasing techniques to utilising as much of each fish we catch, there is much we can do to better value, protect and rebuild our inshore fishery.
Keep up to date with important issues facing our marine environment as well as regular LegaSea news. 
Blog
Sponsors
LegaSea would like to acknowledge the generous support of the following sponsors: